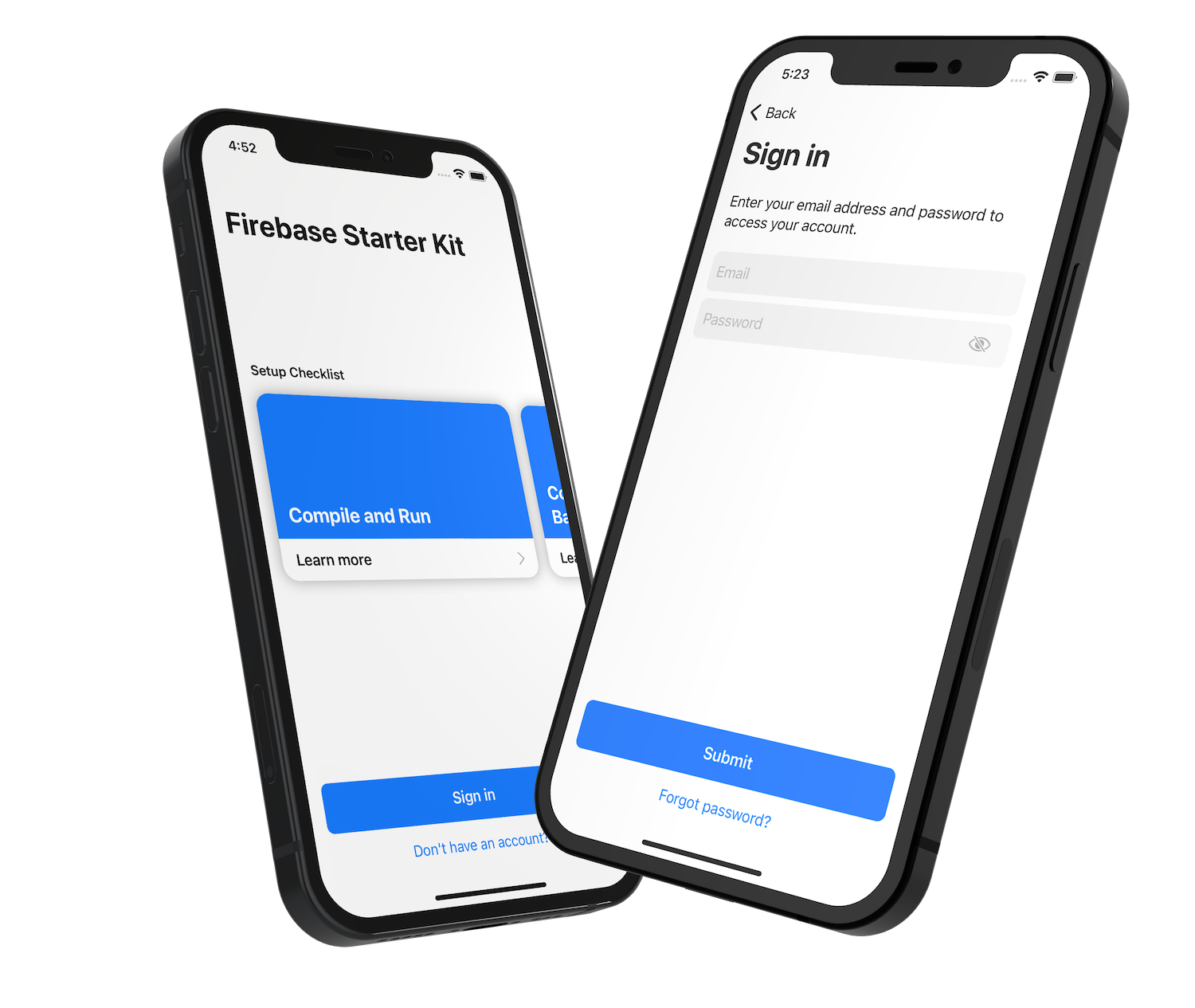 Firebase Starter Kit
An iOS app template with a complete Firebase integration, pre-built user management, and 12 fully coded user interfaces using both SwiftUI and UIKit.
Are you building an iOS app that manages user accounts?
Start miles ahead of the competition with a ready-made iOS application, using Firebase as a backend. User management and storage has already been built, and no server side code is required.
🚀
Launch immediately
All of our templates are App Store ready on day one, so you can iterate on your business immediately.
🔨
Build apps like a professional
We thought carefully about architecture so you don't have to. Have peace of mind knowing that you won't need to rewrite your app down the road.
💰
Save time and money
We know engineering time is expensive. SwiftStarterKits saves you hours of development time by providing all the essentials out of the box.
Here is what you receive with your download
✅

Fully functional iOS app

Built with best practices, designed to scale with your business and team.

✅

Documentation

From compiling your project for the first time, sending beta builds to testers, to submitting your app to the App Store. You'll have guidance every step of the way on our articles page. Additionally, developer onboarding documentation is included with your download.

✅

Complete Firebase integration

The Firebase SDK and its dependancies are included using Swift Package Manager, and has been fully integrated into the app's user experience.

✅

Pre-built user management

Sign in, log out, create an account, change your password, change your email. All the essentials for email based authentication have been built for you, so you can spend time on what makes your app special.

✅

Tons of reusable code

47 Swift files are provided with the project. Including 12 functional screens, 20 SwiftUI components, and a complete data + networking layer.

✅

Designed to be flexible

We don't expect this app to match every single business use case. Because you get the full source code, you can change anything you'd like. Components can be removed, altered, and updated to fit your apps requirements.
Start building your app now.
We'll send a download link containing the complete Xcode project, including source code and setup instructions to your email. For free.